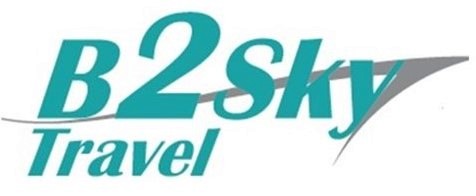 Introduction
Basic data
Company name: B2Sky Travel Hungary Kft
Seat of corporation: H-1056 Budapest, Váci utca 81.
Managing Director: Megyeri Mária
Year of establishment: 2013
Number of employees: 6
Number of branch offices: 1
BFKH registration number: U-001551
Tax registration number: 11898638-2-41
Address: H-1056, Budapest, Váci utca 81.
(Office House/ground floor)
Phone number: +36-1- 279 6896, 296 2433
E-mail address: sales@b2sky.hu
web: www.b2sky.hu / www.b2skytravel.com
Licence number: U-001551

Managing director: Balint Kenderes
Trade reg. number: 01-09-682119
EU-tax number: HU11898638
Office hours: Mon-Fri 09:00-18:00 | Sat & Sun: Closed
Services
Domestic travel

Inbound

River cruises

Conference organization

Abroad hotel booking

Cruises

Own program organization

Fly & Drive travels

Incentive travel

Domestic hotel booking

Travel insurance

Hunting tourism

Sightseeing tours

Railway ticket sales

Beach holidays

Sport tourism

Airplane ticket sales

Cultural cruises

Youth tourism

Health tourism

Bus ticket sales
Countries
Bosnia-Herzegovina, Albania, United Kingdom, Ireland, France, Liechtenstein, Hungary, Montenegro, Russia, Spain, Slovakia, Slovenia, Switzerland, Portugal, Germany, Malta, Lithuania, Iceland, Greece, Estonia, Bulgaria, Andorra, Austria, Czech Republic, Belarus, Poland, Netherlands, Luxemburg, Moldova, Norway, Romania, Sweden, Ukraine, Belgium, Denmark, Finland, Croatia, Latvia, Macedonia, Monaco, Italy, San Marino, Serbia, Vatican, Algeria, Botswana, Ethiopia, Morocco, Namibia, Zimbabwe, South Africa, Egypt, Madagascar, Seychelles, Tunisia, Cape Verde, Kenya, Lesotho, Mauritius, Nigeria, Swaziland, Uganda, Comoros, Zambia, Tanzania, Rwanda, Mozambique, Mali, Malawi, Gambia, Bhutan, United Arab Emirates, India, Israel, Kambodia, China, Lebanon, Mongolia, Russia, Singapore, Turkey, Turkmenistan, Pakistan, Nepal, Malaysia, Kyrgyzstan, Quatar, Japan, Indonesia, Cyprus, Azerbaijan, Bahrein, Philippines, Kazakhstan, Iraq, Kuwait, Maldives, Oman, Sri Lanka, Tajikistan, Uzbekistan, Vietnam, Thailand, Saudi Arabia, Laos, Jordan, Iran, Georgia, South Korea, Bangladesh, United States of America, Belize, Grenada, Jamaica, Nicaragua, Saint Vincent and the Grenadines, Antigua and Barbuda, Costa Rica, Guatemala, Canada, Salvador, Panama, Bahamas, Haiti, Cuba, Trinidad and Tobago, Saint Lucia, Mexico, Honduras, Dominican Republic, Barbados, Argentina, Ecuador, Peru, Bolivia, Guyana, Brazil, Colombia, Uruguay, Chile, Paraguay, Venezuela, Australia, Micronesia, Solomon Islands, New Zealand, Vanuatu, Samoa, Nauru, Fiji Islands, Palau, Tonga, Marshall Islands, Papua New Guinea,
ADDRESS
1056 Budapest, Váci u.81., Váci utca Center
There are no more offices.